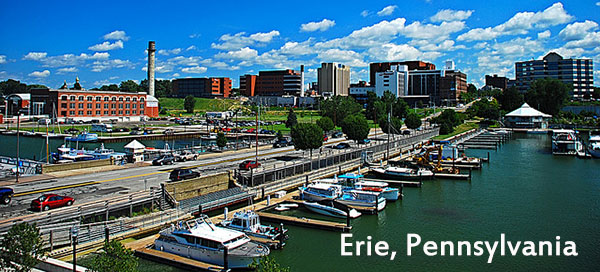 The Erie, PA service area includes Erie and all of Centre County, Lewistown, Brookville, Clearfield, Huntingdon, Philipsburg, Punxytawney, Dubois, Bellefonte, Centre Hall, Milesburg, Port Matilda, and the rest of Mifflin County and Centre County.
Currently, housing demand-supply conditions in the Erie housing market range from being balanced to soft. Soft housing market conditions exist in various neighborhoods within the City of Erie; more balanced housing conditions prevail in the remainder of the housing market area. Most new single-family and multifamily housing construction has occurred outside the city limits.
Several financial institutions work with the City of Erie to provide first mortgage financing for first-time house buyers who participate in the City's program to rehabilitate substandard housing units. These lending institutions play a crucial role in that they provide funding that would otherwise be unavailable.
The Erie Redevelopment Authority administers a home repair loan program, providing fixed; below-market interest rates to homeowners with credit scores of at least 620. The mortgage can be subordinate to other debt and is available to families with household incomes up to $90,000. The program is an exciting addition to grant programs, helping to subsidize costs beyond program limits.
In addition to the rehabilitation programs, ERA is involved in the following affordable homeownership programs:
ERA has initiated a four-part affordable homeownership program: new single-family home construction, new town home construction, rehabilitation of vacant homes for resale, and multifamily and mixed-use building redevelopment. All low-and moderate-income buyers are provided homeownership and credit counseling through a partnership with the St. Martin's Center.