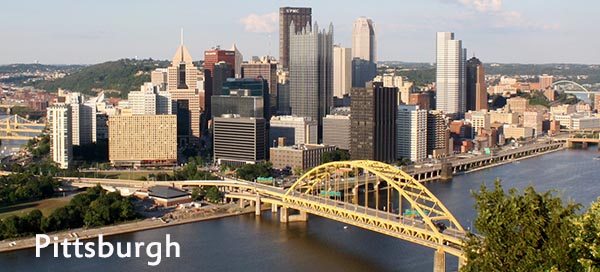 Pittsburgh, Pennsylvania has traditionally been a tough housing market in the past several decades. Most recently in the mid 1980s Pittsburgh suffered from a steel industry collapse, which had a tangible effect on the real estate and mortgage markets. However, Pittsburgh surprisingly emerged as one of the few big cities in America that were relatively unaffected by the big real estate bust of 2008. Home values in Pittsburgh have been on the rise for quite a while, and in fact we have seen about a 40%+ increase in home prices since the early 2000s. The Federal Housing Finance Agency, whose job is to record house sales in the United States, confirms these statistics.
In fact, if you compare a home sales chart for Pittsburgh to another big city, say Detroit, you will see an amazingly steady rise for the past eleven years. Some will say that there wasn't much to lose for Pittsburgh, because there was never a boom per se in Pittsburgh's real estate market. If there was no boom, there is little room for a bust. What that means is that home prices here are continuing to serve as an attractive option for buyers nationwide.
The lifestyle quality is there too. Forbes magazine has repeatedly awarded Pittsburgh various trophies in its annual real estate rankings, including the highly prestigious America's "most livable city" title. Unemployment is low compared to national averages, and there are tech, medical, and finance industries contributing to the local economy. And economics dictate that stability in the job market is probably the strongest correlating factor to stability in the real estate market.
Mortgage brokers offering home mortgages in Pittsburgh, PA agree: it's one of the best places to buy property. It has an impeccable affordability rating, so a middle class family can get a great rate on a Pittsburgh home loan, as long as they have good credit. The number of foreclosures remains low, which means the prices are not as volatile as in the more unstable markets, and the supply and demand of houses are in check.